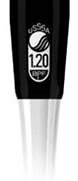 Bat Regulations: New this year - All bats must have the new USSSA 1.20 BPF stamp. Bats with the old BPF stamp or no stamp will not be allowed. All USSSA leagues in MN will be following this rule. New Rule
OAKDALE SUMMERFEST MEN'S SOFTBALL TOURNAMENT
FRIDAY JUNE 23 - SUNDAY JUNE 25
WALTON PARK (15TH & HADLEY)

ENTRY FEE: $140- SOFTBALLS PROVIDED
FORMAT – DOUBLE ELIMINATION
PRIZES- TROPHIES (1st, 2nd & 3rd Place)
MEN'S "D" & "E" TEAMS ONLY
DEADLINE – FRIDAY JUNE 16

CLICK ABOVE FOR A REGISTRATION FORM



Attention- Sunday, Monday and Wednesday night leagues.
I'm going to try to make games up throughout the season on your night of play meaning you may have a double header on a given night. I'll give you a week or two notice if that is going to take place.