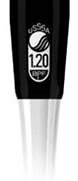 Bat Regulations: New this year - All bats must have the new USSSA 1.20 BPF stamp. Bats with the old BPF stamp or no stamp will not be allowed. All USSSA leagues in MN will be following this rule. New Rule
All Leagues will start the week of April 30th.

ALL SCHEDULES ARE NOW ONLINE.
FILL OUT ROSTER FORM AND HAND IT IN TO THE CONCESSION BUILDING ON THE FIRST NIGHT OF YOUR GAMES AND YOU'LL RECEIVE SOFTBALLS AND SCORE BOOK.