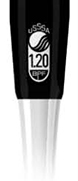 Bat Regulations: New this year - All bats must have the new USSSA 1.20 BPF stamp. Bats with the old BPF stamp or no stamp will not be allowed. All USSSA leagues in MN will be following this rule. New Rule
REGISTRATION IS NOW OPEN. DOWNLOAD A REGISTRATION FORM FROM ABOVE AND SEND IT TO THE ADDRESS PROVIDE.


DOUBLE HEADERS IS 12 WEEKS = 24 GAMES
SUNDAY, MONDAY & WEDNESDAY WOMEN IS 14 WEEKS = 14 GAMES

NIGHTS OF PLAY
SUNDAY- CO-ED (32 TEAMS)
MONDAY- CO-ED & MEN (16 MEN, 16 CO-ED)
TUESDAY- MEN (DOUBLE HEADERS- 16 TEAMS)
WEDNESDAY- MEN (DOUBLE HEADERS- 8 TEAMS) & WOMEN (16 TEAMS)
FRIDAY- MEN (DOUBLE HEADERS- 16 TEAMS)

SPOTS REMAINING AS OF 3/25/15
SUNDAY COED- 6
MONDAY COED- 4
MONDAY MEN- 5
TUESDAY MEN- FULL AS OF 3/16
WEDNESDAY MEN- 2
WEDNESDAY WOMEN- 4
FRIDAY MEN- 5

MAIL YOUR REGISTRATION, REGISTRATIONS WILL NOT BE TAKEN AT THE ADDRESS ON THE SHEET! PLEASE BE RESPECTFUL OF THIS REQUEST.