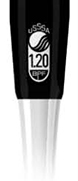 Bat Regulations: New this year - All bats must have the new USSSA 1.20 BPF stamp. Bats with the old BPF stamp or no stamp will not be allowed. All USSSA leagues in MN will be following this rule. New Rule

Sunday August 23
Games are being played, remember to fill out your roster and hand it in to the concession stand.



IF YOU MISSED THE MEETING, SCHEDULES WILL BE UP AS THE LEAGUE FILLS/CLOSES (LOOKING AT CLOSING IT FRIDAY). DOWNLOAD A ROSTER FORM, FILL IT OUT AND DROP IT OFF AT THE CONCESSION WINDOW BEFORE YOUR FIRST GAME TO RECEIVE YOUR SOFTBALLS AND SCORE BOOK.