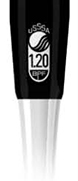 Bat Regulations: New this year - All bats must have the new USSSA 1.20 BPF stamp. Bats with the old BPF stamp or no stamp will not be allowed. All USSSA leagues in MN will be following this rule. New Rule






SUMMERFEST MENS SOFTBALL TOURNAMENT INFO WILL BE ON THIS SITE IN THE NEXT COUPLE OF WEEKS. TOURNAMENT IS JUNE 26-28, THERE WILL BE SOME GAMES STARTING FRIDAY NIGHT.

FALL LEAGUE INFO WILL BE HERE IN EARLY JULY.